Bookings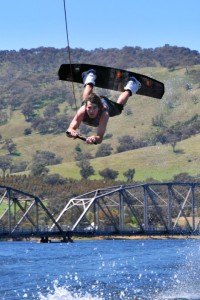 Bookings can be made by calling Chris on 0414 601 099 or by emailing adventureski@bigpond.com. Please feel free to discuss your requirements and we will do our utmost to accommodate your needs.
Deposits are required to confirm all bookings. Deposits are only refundable when Adventure Ski cancels the session due to inclement weather.
We take bookings for
Wake board
Ski Wake Rides
Water sport
Or you can simply hire us and the boat to go out for the day!
Equipment
If you have it, we recommend you bring along your own equipment to use when having a lesson. If you don't have your own gear, we do have a large range of the latest gear which is complimentary for you to use when you book with us.
Recommended Things to Bring
Towel, Sunscreen, Hat, Sunglasses, Cool Drinks, Lunch, Snacks.